A Message from Superintendent Pack:
Looking Forward to 2015


Happy 2015 to you all! Thank you to our staff and our community for the support you provide every day to the boys and girls of Monroe County Schools. 2014 was a great year for our system, and 2015 holds the promise of continued success and new achievement opportunities for our students, staff, community, and our future. I am very pleased with how our schools have performed overall, and the CCRPI ratings are only one of many measures detailing how Monroe County Schools (MCS) are meeting the needs of our boys and girls, young men and women. Our rankings amongst peer school districts indicates high overall performance for the system and each grade level as calculated by the CCRPI formula.
The Georgia Department of Education recently released the College and Career Ready Performance Index (CCRPI)
, based on data from the 2013-2014 school year. Our school scores are: Samuel E. Hubbard Elementary School, 81.2; TGScott Elementary School, 82.4; KBSutton Elementary School, 91.6; Monroe County Middle School, 85.6; Mary Persons High School, 73.
MCS rankings amongst the state provides even greater evidence to the support the MCSS receives from our students, staff, parents, BOE, and community. As a system,
MCS ranked 39th out of the 196 systems* (in the top 20%). Our three elementary schools collectively ranked 38th out of 189 systems with elementary schools (top 20% of districts). Monroe County Middle School ranked 6th out of 194 systems with middle school programs (top 3% of districts). Mary Persons High School ranked 50th out of 188 systems with secondary programs (top 27% of districts).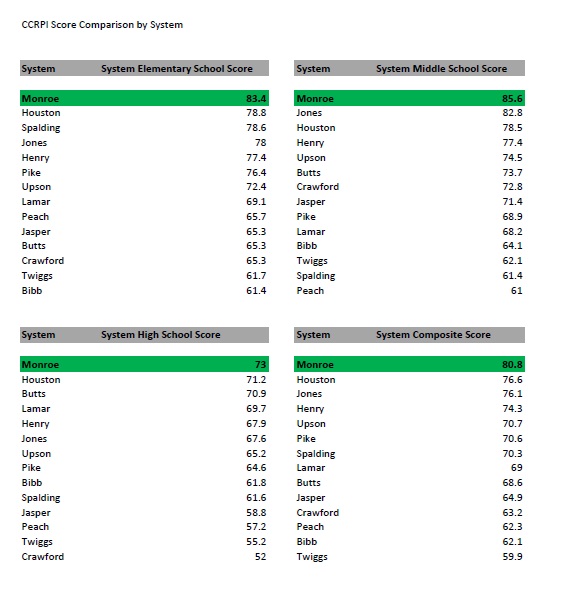 The 2014 CCRPI for the schools and district is the MCSS baseline performance data - the bar by which we will evaluate ourselves from this point forward. It is the hope of the Board of Education that the data collected and measured will remain consistent into the future even though past history does seem to indicate such. Since its inception the measurement criteria for the CCRPI has changed each year. Even with this data, MCS is so much more than the statistics indicate. The BOE, administration and teachers desire to help develop the whole child by providing a well rounded program that includes rigorous Academics; Fine Arts; Career, Technical, and Agricultural Education; Science Technology Engineering and Mathematics; and superior Co-Curricular/Extra Curricular Activities and Athletic opportunities.

Even more important is the fact that our teachers, administrators, students, and parents work to foster relationships that will increase the likelihood a student will graduate ready for college (4 year or technical), join the military, or enter the workforce. Teaching and learning are about rigor, relevance, and relationships. In rigor, relevance, and relationships, those who work for the MCBOE are expected to strive to optimize these just as we desire to perform at higher levels on the CCRPI.
*Note: With the addition of State Charter Schools and Charter Commission Schools, there are now 198 "districts" being ranked. Some of the State Charter Schools and Charter Commission Schools have just one or two grade levels but not all three (Elementary, Middle, and High Schools).