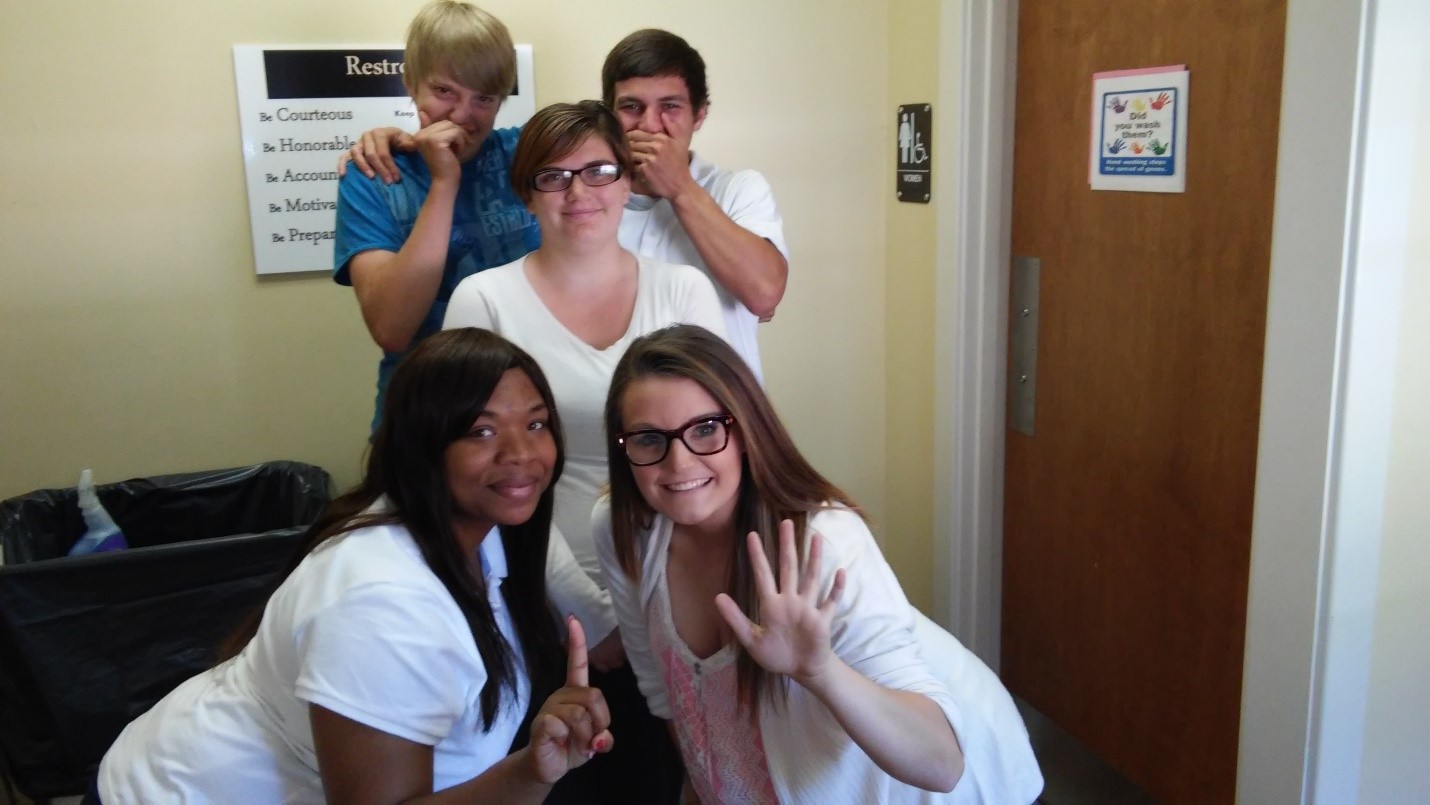 Front row: Deandria Smith, Kayla Pippen
Middle: Angel Garrish, Back row: Chad Merritt, Tyler Mazer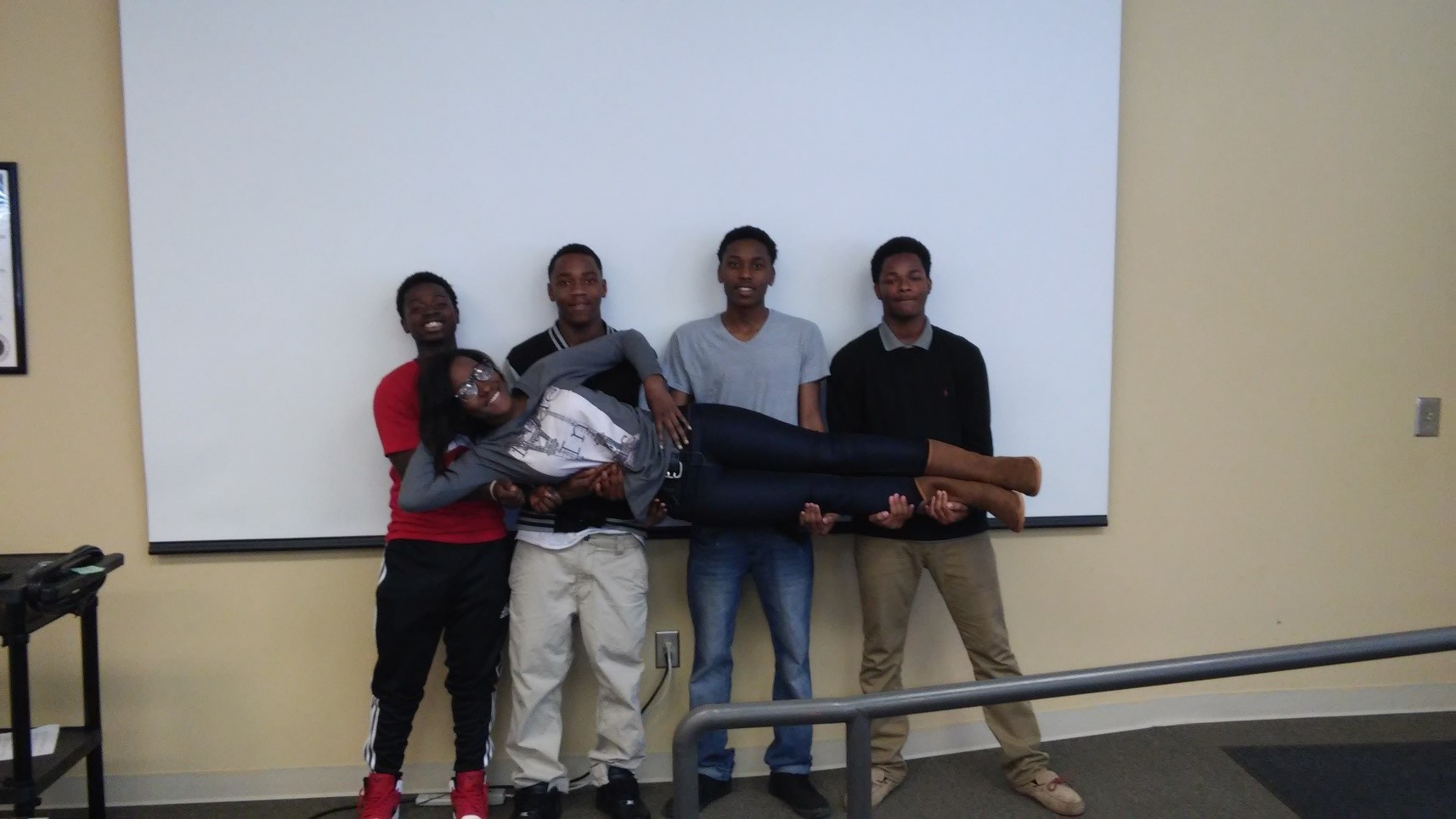 Adrian Grier, Decorius High, Dominique Jones,
Jonathan Worthy, and Tymesha Lyons
I didn't know it was going to go by this fast. My best years in high school were 11th and 12th grade because I had a lot fun with the boys and learned a lot in my last two years of school.
By Jalen Jackson
I can't believe Senior year came this soon. If I could, I'd start over from 9th grade and make some changes; it may take me some time to adjust to the "real world" outside of high school. After I graduate, I just want to be successful in life and have a good job.
By Tervontis High
It was a rocky start and Senior year approached so quickly. I remember 9th grade was fun and I got in a lot of trouble, but I learned from my mistakes and am looking forward to graduation and going out into the real world. The National Guard is in my future where I can earn a living while going to college.
By Tymesha Lyons
What's amazing about high school is that you learn new things, meet new people, and learn responsibility. After high school, I want to get a good job and take care of my mama because she took care of me. Being a Senior is great because you get to rule the school and the underclassmen look up to you as a role model.
By Dominique Jones
At first I didn't think I was going to make it because I did a lot of bad things in the past; the one big mistake I made could've cost me my friends, family, and life, but coming to MCAC changed my whole life around. It caused me to get back on track. Now graduation is right around the corner. So I'm happy with the choices and opportunities I got to come here.
By Cardelveon Ussery
My Senior year was very exciting. It went by fast and didn't feel real at first, but I'm happy that it's here now and I'm graduating. While at the Achievement Center, I got to experience the 12 for Life Program, mature, and become a better person.
By Deandria Smith
My senior year was really good because I switched to MCAC and got caught up with my credits. I'm excited about finishing high school and starting college.
By Abriana Corley
I was excited about my senior year because I got on the right track, I'm about to graduate, I have a job that I hope to keep after graduation. Also, I want to join the Army and be an engineer.
By Adrian White
I'm really happy because a lot of people thought I wasn't going to graduate and now I can prove them wrong. After graduation, I'm going to go to school to be a welder. Goodbye, Mary Persons!
By Decorious High
It went by really fast and I got all of my credits when others doubted. Also, I got to experience the 12 for Life program and see how the Department of Corrections works. I plan on going to college to become a registered nurse.
By Shantey Rhodes
I feel good and I'm ready to get out of school to get a Monday through Friday job and have fun on the weekends with my hard earned money!
By Tyler Mazer
I feel excellent about being a senior and I'm getting ready for the real world. I plan on joining the National Guard and going to a technical college for a degree in computer technology.
By Jonathan Worthy
The best thing about a senior is feeling good that you work so hard to get where you are. I'm ready to be able to support myself so that I don't have to rely on anyone else. I'm going to major in Early Childhood in college and become an elementary teacher. I'm so grateful that I chose to come to MCAC because it helped me out a lot and supported me through my senior year.
By JuliaMarie Reyes
Senior was fantastic. I'm really going to miss cheering at the Friday night football games and seeing my friends everyday, but I'm so ready to get out there and live the college life and a new beginning as a hairstylist. I can't wait to see what this next step brings.
By Kayla Pippen
I'm ready to graduate so that I can be a firefighter, live on my own, and provide for myself.
By Chad Merritt
I'd have to say I'm going to miss having fun with all of the friends I've recently made and the teachers for actually helping me, being nice, and getting respect. After school, I'm joining the Army Rangers and getting a degree in Criminal Justice to Decoriousrime scene investigator.
By Steven Boswell